Meet Dean Manning
Harvard Law School Cordially invites you and a guest to attend an evening reception with Dean John F. Manning '85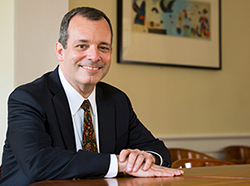 John F. Manning '85, an eminent public-law scholar with expertise in statutory interpretation and structural constitutional law, became Harvard Law School's thirteenth dean in 2017, succeeding Martha M. Minow. A graduate of both Harvard College and Harvard Law School, Dean Manning has served on the HLS faculty since 2004, following a decade at Columbia Law School, and served as Deputy Dean from 2013-2017.

A prolific and influential scholar, Dean Manning has published more than 40 articles in a range of leading law journals and is co-editor of two leading casebooks, Hart & Wechsler's Federal Courts and the Federal System and Legislation and Regulation. His honors include the ABA Section on Administrative and Regulatory Law's Award for Scholarship in Administrative Law and Columbia Law School's Willis Reese Prize for Excellence in Teaching, which he received two years in a row. He has argued nine cases before the U.S. Supreme Court.

Learn more about Dean Manning.
October 17, 2018
When:
6:00PM - 9:00PM Wed 17 Oct 2018, Eastern timezone

Where:
Harvard Club of New York City
35 West 44th Street
New York, NY 10036
[ Get Directions ]




For questions, please contact Julie Kron at alumnievents@law.harvard.edu or 617-495-0773